External Affair Minister's Message
Announcement of new Passport Rules
Egazette For New Passport Rules
Gazette Notification on Date of Birth
IMPORTANT NOTE on Renewal/Reissue of Passports

Government of India has launched a new project for the issue of Machine Readable Passports (MRPs) since 26th August 2007.

In accordance with the guidelines of International Civil Aviation Organization (ICAO) this Mission has started issuing machine readable printed passports. In accordance with the same guidelines most countries will not allow entry of persons with handwritten passports except when they possess emergency documents after 2014. Issuances of these passports take three-four weeks of processing time. Members of the Indian Community are advised to apply well in advance for new passport to give the Embassy necessary processing time.

Applicants have to fill the form for reissue of passport online on the website: www.passport.gov.in/nri and take the printout of the filled up form before sending it along with other documents to the Embassy of India, Paramaribo, Suriname. The applicants resident in Suriname, Barbados, St.Lucia and St.Vincent & the Grenedines should send in filled applications forms either in person or through courier along with return prepaid airway bill to this Embassy with the following:

i Present passport- in cases of reissue

ii Cash fee as applicable. In the case of outstation applications, the demand draft should be in favour of Embassy of India, Suriname with US$ 5 added to cover bank charges and US$2.00 as ICWF charges.

iii Three copies of recent photographs of 5 cm x 5 cm and specimen signatures in the space provided in the application 1.5cm x 4.5cms. PLEASE NOTE THE PHOTOGRAPHS MUST BE SQUARE OF 5 CMS X 5 CMS AND SPECIMEN SIGNATURES MUST BE IN THE BOX OF 1.5CM X 4.5CM.

On receipt of the applications, given data will be transferred to the Ministry of External Affairs after registration. The passports will be printed in New Delhi and couriered to the Embassy for distribution to the respective applicants in a period of appx. Three-four weeks.

INFORMATION ON PASSPORT & CONSULAR SERVICES

NEW/REISSUE OF PASSPORT
Indian passports are normally issued for a period of 10 years. The passport can be renewed any time between one year before and six months after the actual date of expiry. If the pages of the passport are exhausted, a new passport booklet valid for a period of 10 years will be issued. Three passport size photographs taken full face, are to be submitted along with the filled in application form for issue of a new passport booklet. Loss of passport should be reported immediately to the local Police authorities and also to the nearest Indian Mission.

LOST/DAMAGED PASSPORTS
The reissue of passports in lieu of lost or damaged passports is handled under a special procedure. In case of lost passport, application form should be accompanied with a copy of FIR lodged with police, a copy of lost passport and some additional proof of identity like driving license, Institute ID card or letter from employer etc.

SEPARATE PASSPORTS TO MINOR CHILDREN
All minor children will need a separate passport. Passports to minors (below the age of 15 years) are issued for a validity of 5 years.

MISCELLANEOUS PASSPORT & CONSULAR SERVICES
All applicants for miscellaneous Passport and Consular Services are required to fill up a "Miscellaneous Services" form and submit their passports.

For CHANGE OF FIRST NAME/FULL NAME, applicant has to submit (a) Court Order or notarized affidavit (b) newspaper clipping of notice in city of applicant's domicile and (c) newspaper cutting of notice in state of applicant's domicile in India. For CHANGE TO MARRIED NAME, applicant is required to enclose a copy of the marriage certificate, sworn affidavit giving maiden and married names duly notarized by a Notary Public and husband's passport. In case where first name also changes after marriage, additional requirements as indicated in "change of full name" are to be met.
REGISTRATION OF BIRTHS, MARRIAGES AND DEATHS,are also undertaken by the Embassy.

ALL LOCAL DOCUMENTS FOR ATTESTATIONare required to be initially attested by the Ministry of Foreign Affairs or the local authorities and it should be accompanied by an English translation by an authorized translator along with his/her stamp on it. Applicant's valid passport is also to be submitted.

For ATTESTATION OF SIGNATURES ON AFFIDAVITS / POWER OF ATTORNEY, the applicant is required to submit his passport along with copy of the passport and one copy of the notarized document to be legalized.

WHERE TO APPLY:
Application for passport/consular service can be submitted at Consular Section of the Embassy of India at the following address:
Embassy of India
Dr. Sophie Redmondstraat 239,
PO Box 1329, PARAMARIBO
Telephone No : (597) 498344
Email- consular.paramaribo@mea.gov.in ,attache.paramaribo@mea.gov.in, india@sr.net
Web: www.indembassysuriname.com

OBTAINING FORMS
The application forms for various services can be obtained from Consular section of the Embassy or can be downloaded from the website http://passport.nic.in All forms are provided free of charge.

WORKING HOURS:
Applications are accepted at the counter between 0900 -12.00 hours on all working days and delivered between 1500 - 1600 hours.


Passport Application Fees for various Passport /Consular Services: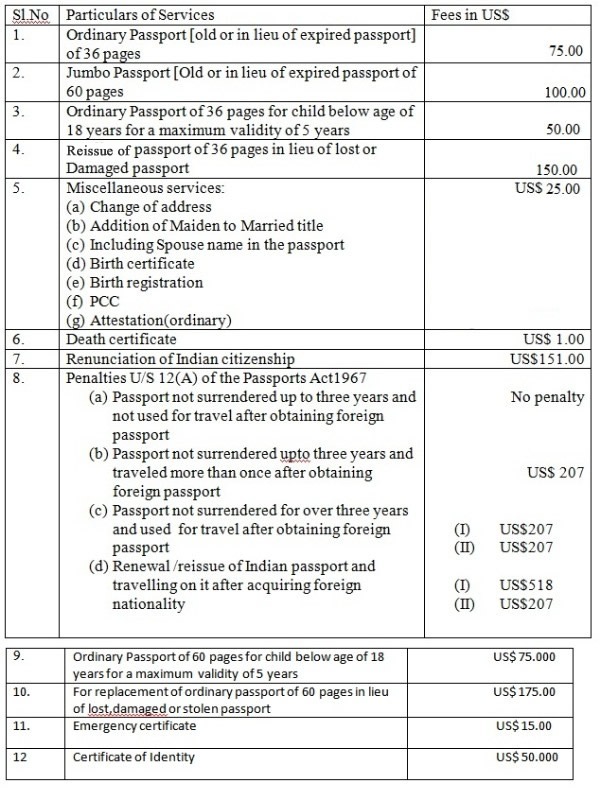 N.B.: US$ 5.00 to be included for bank charges for each bank draft


ICWF charges for all passport related miscellaneous service:US$2.00